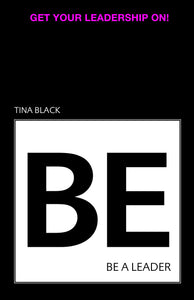 T's Desk
BE a Leader - Book
Regular price
$20.00
$0.00
Unit price
per
BE a Leader is the second book by Tina Black, a rising star in the world of high–end training and performance systems.
Her friend and mentor, John Paul DeJoria, the co–founder and CEO of John Paul Mitchell Systems writes the foreword of this book and captures its essence by stating "Leadership doesn't just happen, it takes time, tools and commitment. If you use the tools in this book, and commit to your growth as a leader, you will surely reach your goal."
Tina's secret to massive growth was realizing and acting on the idea that "transformation begins in me." This simple, but powerful epiphany caused her to start asking questions. It is these questions that will propel you to action and move you forward.
This book is the blueprint she used to realize her goals of growth and change. Now, she is traveling the world sharing her insights on how to become a true leader in your world.
Everything rises and falls on leadership. If you want to rise in life and business, you must be a leader, and embrace the idea that your "transformation begins in you!"
---